---
VOLCANIC PROCESSES: MECHANISMS IN MATERIAL TRANSPORT

Flavio Dobran, Ph.D., P.E.
Professor of Engineering and Earth Sciences.
---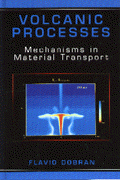 Cover: Image from computer simulation of a large-scale volcanic eruption at 150 seconds after the eruption. The column oscillates between a plinian column tending to transport the material high into the atmosphere and collapsing column tending to produce on the ground hugging inward and outward moving pyroclastic flows and surges.

---
Praise for Volcanic Processes:
Dr. Dobran is to be congratulated on having covered the basic physics of virtually all aspects of volcanology in so much detail. This will be an invaluable reference work for established scientists in volcanology and provide an excellent starting point for new researchers wishing to become familiar with the quantitative aspects of this field.
Lionel Wilson, Professor of Earth and Planetary Sciences, Lancaster, UK
In this interesting, original, and ambitious textbook, the author captures all mechanico-physico-chemical phenomena leading to volcanic eruptions. The book is self-contained; all terms, expressions, and mathematical formulas are clearly explained; contains many examples pertaining to the subject matter; and the treatment, although aimed at advanced undergraduate and first-year graduate students, is up-to-date and full of useful data. This book will also be very useful to specialists in geology, geophysics, and volcanology. I recommend it highly.
Prof. Gerard Maugin, Universite Pierre et Marie Curie, Paris, France
---
Contents
Preface

Acknowledgments

Overview of Volcanic Processes

Foundations of Transport Theory

Properties of Igneous Materials

Mantle Convection and Melt Segregation

Magma Chambers

Magma Ascent in Conduits

Pyroclastic Dispersions

References

Index
---
Ordering information for Volcanic Processes ISBN 0-306-46625-2
| ORDERS WITHIN THE AMERICAS | ORDERS OUTSIDE THE AMERICAS |
| --- | --- |
| Order online at www.wkap.nl | Order online at www.wkap.nl |
| Email: Cservice@wkap.com | Email: services@wkap.nl |
| Fax: 781-681-9045 | Fax: 31-786-392-282 |
| Mail: Customer Service | Mail: Customer Service |
| Kluwer Academic Publishers | Kluwer Academic Publishers |
| 101 Philip Drive, PO Box 989-3300 AZ | Spuiboulevard 50-3311 GR |
| Norwell, MA 02061, USA | The Netherlands |
618 pages, 185 figures, 55 tables.

---

Main selection?

---