---
EDUCAZIONE AL RISCHIO VESUVIO

Edited by: Flavio Dobran

(VESUVIUS RISK EDUCATION)
---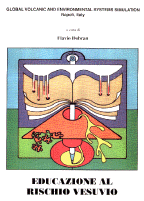 Vesuvius Cover design: A conscious and informed eye will design the reduction of volcanic risk in the Vesuvius area. The knowledge will aid a territory all of which needs to be rearranged. Design by G. Gambardella (S.M.S. R. Scotellaro, Ercolano). (In copertina: L'occhio consapevole, informato, disegnera' la riduzione del rischio Vesuvio. La Conoscenza aiutera' un territorio tutto da riccomporre. Disegno di Gianfranco Gambardella.)

---
The book is written in Italian to aid the Vesuvius area school teachers in their education of the interdisciplinary volcanic risk problem. This is a first-ever attempt to produce such an information for the territory. 150 pages (30 in color), large-size (A4) format.
Il libro e' scritto in italiano, contiene 150 pagine, 30 a colori. Per la premessa vedi: Quale educazione al rischio Vesuvio
---
Contents (Contenuti)
---
Ordering information: ISBN-13: 978-88-903183-2-0
---
Main selection?
---