VESUVIUS 2014
What progress? Scientific, social, economic, educational and cultural aimed at the sustainability of the cities surrounding Vesuvius
---
Place and date
Hotel dei Congressi, Castellammare di Stabia (Naples), Italy

15 December 2014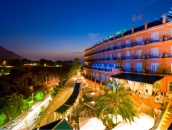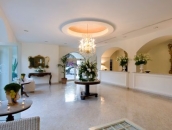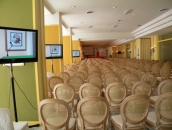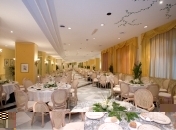 Hotel dei Congressi hosts conferences and accomodates guests in the heart of Castellamare di Stabia. It is easily reachable by car and the railway (Circumvesuviana) that connects Naples with Sorrento. The conference rooms of the hotel are equipped with the modern audio-visual equipment and the logging offers many relaxation amenities.
---
Conference program
In 1995 an evacuation plan for the Vesuvius area was hastily designed by the volcanologists to combat the interdisciplinary risk management feasibility study VESUVIUS 2000. This plan was then promoted through the Italian ministry of Civil Protection and ever since it has been used as the official risk management strategy for the territory. The evacuation plan has been criticized for being unreliable and nothing substantial has been accomplished to improve its deficiencies, adopt other strategies, or involve the Vesuvius area leaders in collaborating on confronting the risk seriously.
The goal of the conference is to address the following issues:
How can 600,000 people residing on the cone of Vesuvius be evacuated reliably?

What are the social, economic, and cultural consequences of a massive evacuation?

What is the decision process leading to evacuation?

Should future actions be focused on the goal of protecting lives, property, and maintaining continuity of operations without fearing the hazards from future eruptions and people in a state of panic trying to escape the danger?

What sorts of habitats are compatible with the volcano and local culture?

What are the design parameters for building residential, commercial, industrial, and infrastructure systems around an explosive volcano?

What should be the patterns of supply and use of materials, energy, information, services, and products, and what kind of protective measures against earthquakes, tephra fall, pyroclastic flows, and other events can be developed?

What urban center design paradigms (sustainability, systems design tools) can be implemented to build a defendable homeland for the people around Vesuvius?

What safeguards have been adopted to prevent l'Aquilla issues to be repeated in the Vesuvius area?

What are the justifications for building public health and other public serving structures on the cone of the volcano?

How and who should communicate the risk to the population?
---
Participation
Participation at the conference is free.

Registration is required by 31 October 2014.
---
Registration

////
---
Organizer
GVES, P.zza Matteotti, CP83, 80133 Napoli, Italy
---
Main: The Vesuvius Problem?
---